Radiant Heated Driveway and Snow Melting System Options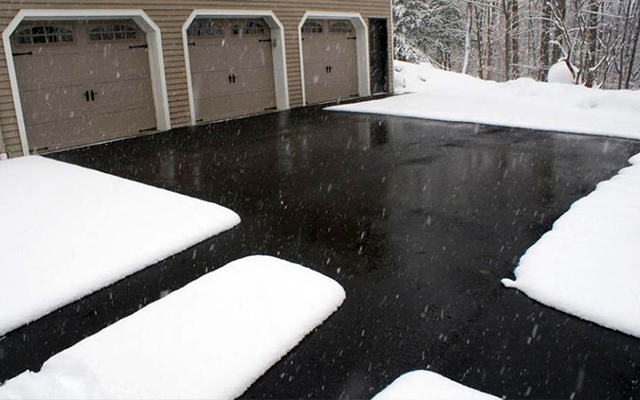 Radiant heated driveways and snow melting systems can be easily customized to meet your snow melting needs and your budget. Electric heated driveways utilize heat cable that can be configured to warm unique spaces because the cable can be easily manipulated and installed to warm custom areas. The cable can even be laid out to heat steps or narrow pathways and ramps.
While there are many different types of heated driveway systems and components, the quality of these systems varies widely. Perhaps the most trusted system among professional builders is the ClearZone radiant heat system. Designed for installation in all types of mediums, including concrete, hot asphalt and under brick and stone pavers, ClearZone cable is one of the most proven heat cables on the market, and carries a 10-year warranty. Warmzone customers also receive professional system design, free installation training, and the best installation support in the industry. Upon request, you will receive a detailed AutoCAD of the snow melting system, and our highly trained, expienced staff is available to provide you with personal installation support as you install the system. Warmzone's free installation training for installers is one of the most valuable services available, and one that professional builders are quick to take advantage of. Our staff will be with you throughout the installation process to ensure that your system is installed and performing correctly. Simply put, Warmzone snow melting systems are unmatched in all aspects of performance, support and warranties.
Warmzone's experienced staff will serve as a resource for you during the installation of your driveway heating project. Warmzone has achieved its position as an industry leader by offering a large selection of the most proven products along with premier customer service. We have an unyielding commitment to providing only the highest quality radiant heat snow melting products at affordable pricing. By combining unmatched customer service, system design, installation support and FREE installation training courses, Warmzone has rightfully earned the reputation as the most trusted name for radiant heated driveways and snow melting systems.
Popular Radiant Heat Snow Melting Options
Whether you want to heat your driveway, walkways, patio and other areas to keep them free from snow and ice, or simply want a minimal radiant heating system that allows you to be able to get in and out of your driveway during heavy winter storms, there are a number of radiant snow melting solutions that will meet your specific needs.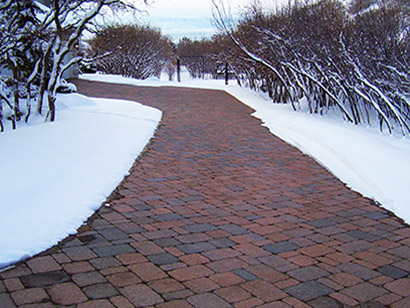 Heat entire areas - Radiant heat can be installed to keep your entire driveway, sidewalks, and other outdoor areas completely clear of snow and ice. Snow melting systems are often installed to heat entire ramps, parking areas, bridges, sidewalks and walkways, and more.
Apply radiant heat only to trafficked areas - Heat the most trafficked areas of your property, whether it's asphalt, cement or stone pavers. For example, instead of heating an entire driveway, just heat an 8-foot strip in the middle of the driveway, or the most trafficked area of a ramp or loading platform. Or heat a 3-foot center portion of sidewalks or entryways. Save money by installing radiant heat only to areas that are going to be accessed the most.
Heat small, select surface areas - Rather than installing a snowmelt system under the entire driveway surface, apply radiant heat only to minimal areas. For example, install a pair of 2-foot-wide heated tire tracks for your driveway.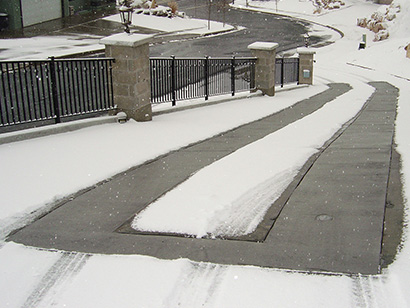 The top radiant heat providers will work closely with you to show you how to best meet your snow melting needs while keeping within your budget.
Small, custom sized radiant heated snowmelt systems can be installed in disability ramps, stairways, small patios, walkways, dog kennels, and more. The applications are limited only by your imagination.
Both electric and hydronic radiant heat technologies can be used for heated driveways and snowmelt systems. Both of these Warmzone systems feature the highest quality components available. Radiant heated driveways can be installed in virtually any application and customized to any unique shape, making radiant snow melting a realistic option for all consumers.
For more information about driveway heating systems, or to sign up for free installation training, call a friendly radiant heat professional at 888.488.9276.
Automated Driveway Heating Systems
Controls and Activation Devices
Snow sensors and controllers ensure fully automated, energy-efficient snowmelt operation. The radiant heated snow melting system utilizes minimal energy, yet achieves optimal results. The driveway heating system is activated by the snow sensor only when specific weather conditions have been met. The heated driveway system then shuts down when it is no longer needed. NOTE: The automated system also features an "afterrun" function, whereby the system remains on for a short time after the snowstorm. This is a safety feature designed to dry the surface of the driveway so that no ice forms.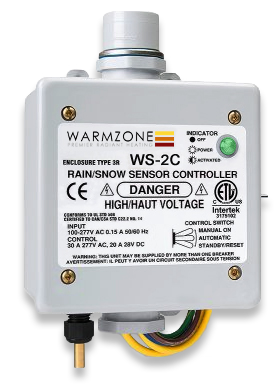 The master control unit used for heated driveways with an in-ground snow sensor features an easy-to-use digital interface with a programmable timer and manual override capability. If you choose, you can activate the system for an allotted time and then shut it off after the time expires. The manual mode is particularly useful for times if you need to melt snowdrifts, or deal with ice as a result of wind or shade.
It is possible to operate the controller from an external signal (day/week timer, GSM-module or other signal source) It can be switched on/off (standby) and the heating system can be forced on, in the after run time that has been set in the menu.
Controller Features:
Electronic on/off control up to 11 KW
2-zone control, individually controlled at the same time
Economical control - Minimizes energy consumption
Control of electrical or hydronic snow melting systems
Detection of temperature and moisture
Display and "knob wheel" for easy programming
Adjustable moisture sensitivity
The master control unit is designed to accommodate extension units for larger jobs, making automated snow removal possible for virtually any sized project. For more information, call 888.488.9276 or CONTACT US online.