Heated Driveways and Snow Melting Systems
Applications for Radiant Driveway Heating Systems
Driveway heating systems can be installed in just about any medium, including concrete, asphalt, and under pavers. When dealing with a reputable provider, system designers can easily customize the snow melting systems to accommodate the driveway's size and shape, as well as the homeowner's budget. Home and business owners have a wide range of snow melting system options to chose from to be accommodate their needs.
The best providers have a staff of experience system designers who create a detailed layout, prior to any installation taking place. These system layouts are crucial, and not only include the precise layout of the heat cable, snow sensor and controller, but also the proper load calculations, breaker sizes, number of breakers, etc. This way, your installers and electrician have all the information needed to ensure a successful installation.
Electric systems and hydronic (water-based) driveway heating systems are available. The hydronic systems utilize a closed loop of PEX tubing, a boiler and pumps to circulate the hot water. Electric heated driveways consist of heating cable that is spaced according to the demands of the system and installed so that it is about 2-inches from the surface of the driveway. Installation techniques vary, depending on the driveway medium.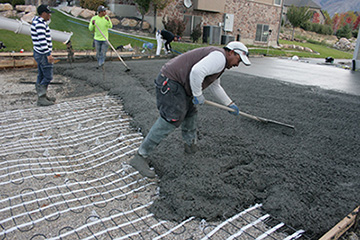 Concrete Heated Driveways and Sidewalks - New Pour
Concrete is the most common application for radiant snow melting systems. Prior to the concrete pour, the heating cable is secured to the remesh with wire ties and spaced at 3 to 6-inch intervals. (Watch the instructional video, "Securing the Heat Cable".) Premier heat cable, such as ClearZone, can be customized to heat any size or shape of driveway, ranging from large commercial projects to residential driveways, sidewalks, patios, etc. Once installed, the driveway heating system is virtually maintenance free and will help to preserve the quality of your concrete driveway and sidewalks.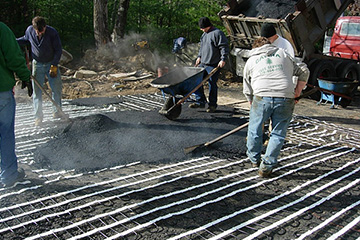 Asphalt - New
Specially constructed heat cable is available for hot ashpalt applications. ClearZone asphalt heating cable is designed to withstand the heat and compression of newly poured asphalt. ClearZone heat cable for asphalt heated driveways has an external jacket rated for asphalt temperature of 220°F (105°C), [460°F (240°C) for up to 10 minutes]. The radiant heating cable is laid out on the base surface (usually sand), and the asphalt is hand shoveled onto the cable and base surface. Insulation is recommended, but not required. One inch rigid insulation can be installed underneath the base surface, or the insulation can be laid on the base surface and the snow melting cable can then be secured on top of the insulation.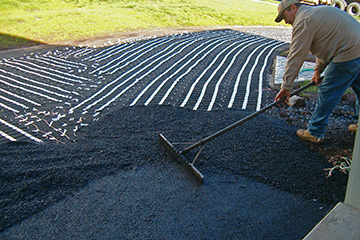 Asphalt - Repave and Retrofit
The ClearZone radiant heating system can safely be installed in new construction as well as retrofit applications to heat existing driveways and sidewalks. If you have an existing asphalt driveway and intend to re-pave it, you can retrofit your driveway with a radiant snow melting system. Ideally, ClearZone's "asphalt heating cable" should be embedded under 2-inches of asphalt and is secured to the existing asphalt with clips and nails (for mats). (Be careful to avoid damaging the cable.) The new asphalt should then be hand shoveled onto the cable on the existing driveway. ClearZone cable is simple to install and provides outstanding performance for heating asphalt driveways. Concrete driveways can also be retrofitted with radiant heat by using saw-cut technology. Channels are cut into the cement and cable is then placed in the grooves. A special epoxy is then used to cover and seal the heat cable.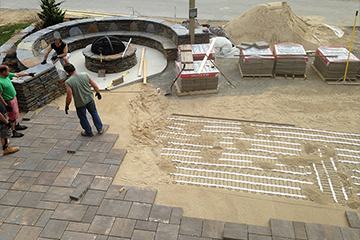 Brick Paver Driveways - Installation
Radiant snow melting systems are commonly installed under paver driveways. Installing a snowmelt system under brick or stone pavers is also one of the easiest radiant heat installation methods. The heating cable is simply laid out on the base surface of the area to be heated and the paver sand and pavers are installed as normal over the cables. Because the ClearZone cable has been tested and approved for wet conditions, the cable can come in contact with moisture without its performance being affected.
In addition to electric radiant snow melting systems, hydronic heated driveways can also be installed. For additional information and instructional videos on radiant heat and snow melting systems, visit our radiant heat pressroom. Or contact a radiant heat professional today at 888.488.9276 to learn more about the available systems or free installation training.
Snow Melting Systems
Advanced thermostats and state-of-the-art snow sensors ensure energy-efficient snowmelt operation for your heated driveway. The radiant heating system utilizes minimal energy, activating only when needed and sutting off automatically after the storm.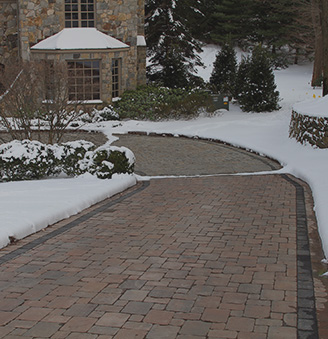 The snow sensor (typically mounted above the roofline where it is exposed to inclement weather) activates the driveway heating system when precipitation is detected and the temperature is below 39°F. The heated driveway system can also be activated manually in cases when wind has blown snow onto the driveway or runoff from other areas collected on the driveway forming ice in shaded areas.
Warmzone is committed to providing the latest, safest, and most reliable technology available. Consequently, installing the snow melting system will not void any existing home fire insurance policies.
The ease of installing electric snowmelt systems minimizes labor costs, and the operating cost of the snow melting system is modest. Installing an electric snow melting system provides a number of significant benefits, including extending the life of your driveway.
Radiant heated driveways and sidewalks increase property values, eliminate the need for snow shoveling or using salt and harmful snow melting chemicals. The systems operate cleanly and quietly, providing reliable, maintenance-free, automated snow removal. You'll never have to worry about shoveling snow again!
For more information about driveway heating systems, or to sign up for free installation training, call a friendly radiant heat professional at 888.488.9276.