Heated Driveways and Snow Melting Systems - How it Works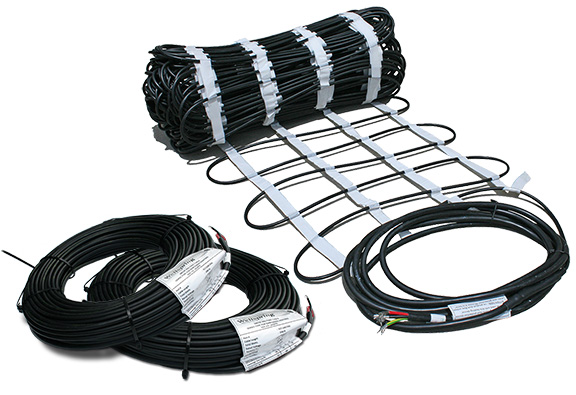 The Premier Snow Melting Cable
As one of the most durable, versatile and long-lasting radiant heat cables on the market, ClearZone heat cable is a proven radiant snowmelt solution. The cable features a polyolefin outer jacket with fluoropolymer insulation, metal sheathing and twin conductors. Combined with the advanced snow sensor and controller/contactor panel, the ClearZone snow melting system is one of the most trusted systems on the market. A special "asphalt" snow melting cable is also available. This rugged heat cable can be installed in any snow melting application, and is designed to withstand the extreme heat and compression of new asphalt installations.
Premier Quality Products and Warranties
Warmzone offers the premier heat cable that carries one of the industry's most comprehensive 10-year warranties. Warmzone also manufacturers snow melting cable that features a specially designed outer jacket for hot asphalt installations. Simply put, Warmzone snow melting cable is the trusted heat cable of choice among professional builders. When combined with the inclusive customer services such as free installation training, installation support, system design, Warmzone snow melting solutions are virtually unparalleled.
Snow Melting System Control Unit
Electric heated driveway systems with a pavement-mount snow sensor utilize a small wall-mounted control unit to power the snow melting system. The master controllers include line and load terminal blocks and operating contactors.
The snowmelt system controller features a built-in, easy-to-use programmable timer and digital operator interface with manual override capability. The unit is compact, durable and efficient, further complementing the overall performance of the ClearZone snowmelt system. Its two-zone control allows you to individually control two zones at the same time.
Using readings from temperature and moisture sensors, the controller ensures economical control of power consumption when keeping outdoor areas free of ice and snow. These heated driveways feature a moisture sensor that is installed in the surface of the driveway. As soon as moisture is detected, the controller activates the snow melting system. Once the sensor has dried out, the thermostat immediately switches the heating system off.
Radiant Snowmelt System Activation Device
Most Warmzone radiant heated driveway systems utilize an aerial-mount snow sensor. This highly sophisticated, yet durable device automatically activates the driveway snowmelt system when certain conditions are met (temperature and precipitation). The sensor has several notable features, including: adjustable temperature trigger point, adjustable delay off cycle, upgradeable remote activation, and it is smart-system compatible.
Pavement-mount snow switches are also available, but these are more commonly used in commercial applications. These devices also allow the radiant snow melting system to be 100 percent automated, activating only when it snows. Manual mode allows you to activate the system in case the wind blows snow onto the driveway or ice forms due to wind or shade.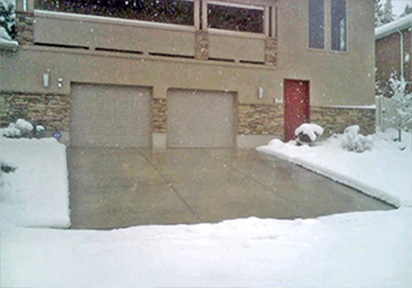 Technical Specs of ClearZone Heat Cable
ClearZone cable is UL listed and consists of a twin conductor with FEP/XLPE insulation. Its polyolefin jacketing provides flexibility and durability, as well as UV protection. The radiant heating cable is rated at 220° Fahrenheit and is designed to produce 30-50 watts per square foot, providing the quickest response time among snowmelt systems.
For additional information on hydronic and electric radiant heating and snow melting systems, visit our radiant heat pressroom. Or contact a radiant heat professional today at 888.488.9276.
Installation Notes
A certified electrician is required to hook up power to the control unit (for warranty purposes), but the rest of the system can be installed by any contractor. (However, it is important to have the installer(s) attend the free installation training course offered by Warmzone.) Cold leads are wired to the master control unit and then run to the radiant heating cable. The pre-spliced cold leads are spliced to the heating cable, and the cable is laid out over the driveway or walkway to be heated.
Automated Driveway Heating Systems
Heated driveway and snow melting systems feature energy efficient, maintenance-free automated operation. The electric radiant heating systems detect precipitation and automatically switch heat on and off as needed.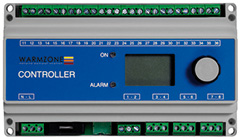 ClearZone heating cable is proven to effectively heat concrete, asphalt and paver driveways. The twin conductor, single point connection heat cable is one of the most trusted snow melting cables on the market. The specially designed cable for asphalt installations features a durable outerjacket to withstand the extreme temperatures. The cable distributes heat evenly to the structure, resulting in a heated driveway and/or sidewalk that is kept free of ice and snow throughout the winter.
The fully programmable snow melting system makes labor-intensive snow shoveling and the use of harsh chemicals and salting a thing of the past. Radiant heated driveway systems can also increase the life span of the driveway by eliminating salt corrosion, frost damage, and potential damage from snow plows and other manual snow removal methods.
For more information about driveway heating systems, or to sign up for free installation training, call a friendly radiant heat professional at 888.488.9276.